The story of Pic Blanc 
From the very first climb to thousands of skiers each winter… Joseph Bayle, the vicar of the village of Oz 3300, took part in the first expeditions up to the peaks of Oisans in the 1870s. He lent his name to the highest point of the Grandes Rousses massif: Pic Bayle. It was also this skilled mountaineer who named the summit 'Pic du Lac Blanc', now more commonly known as 'Pic Blanc'. In 1963, a cable car up to the summit was built, which today transports a large number of skiers and walkers up to Pic Blanc.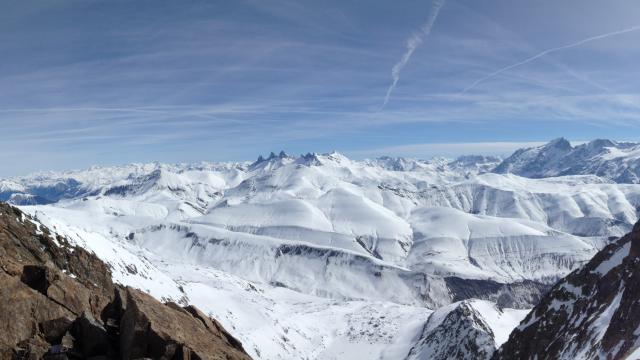 The highest peak in the l'Alpe d'Huez Grand Domaine Ski area
Mont Blanc, La Meije, Les Grandes Jorasses… mountains as far as you can see! On the border of two communes, Oz 3300 and Freney d'Oisans, Pic Blanc is one of the highest peaks in the Grandes Rousses massif along with Pic Bayle (3,465m) and Pic de l'Étendard (3,464m). The view is incredible on a clear day! From Pic Blanc, you can admire the surrounding mountains and a viewpoint indicator helps you to identify each of the peaks: Pic Bayle, Grande Casse de Pralognan, Grande Motte de Tignes, Grand Paradis in Italy, the Vanoise glaciers, the Maurienne and Meije summits, the Barre des Écrins and Mont-de-Lans glacier…
The starting point of two legendary runs: La Sarenne and Le Tunnel
At a height of 3330m, Pic Blanc is the highest peak in the ski area. But it's also the starting point of its most well-known runs: La Sarenne, the longest black run in Europe (16km long!) and Le Tunnel, a vertigo-inducing run that goes through a tunnel cut into the rock.